I am a big believer in White for spring and while I love White Jeans, I love the White blouse. In fact, I'd say I *prefer* a White blouse or T-shirt over white jeans just for the versatility. I have way too many outfit posts here from past spring seasons that can back up my claims of love for white blouses, but today I wanted to show you the seasonal options that are perfect for this spring.
I had this idea to do an 'This or That' series on the blog with one higher price option and one lower price option. I usually link to "similar" items if something I'm wearing is over $100, but sometimes it's hard to imagine it as exactly the same outfit. I have these two VERY similar Tops from Madewell and Walmart and would style them exactly the same, so they cancel each other out outfit photos wise. Only one can win, but then I thought, wait a minute, why not show them both in the exact same style so you can see two different options in the same light? Thus this or that was born. Necessity is the mother of invention.
Before reaching the TOP, this spring I have loved the lightest Denim. And while there's plenty of debate as to whether or not skinny jeans are dead, I personally won't be burying my skinny jeans any time soon. Gen Z will just have to suffer for the offensive sight of my tapeRed legs because I love this new pair of Levi's 501s. I love that they are not distressed and the light Blue hue. The 501s always fit perfectly, too. I'm in 28, they wear TTS. Find them here!
Let's go to the Tops!
Less than $100 Option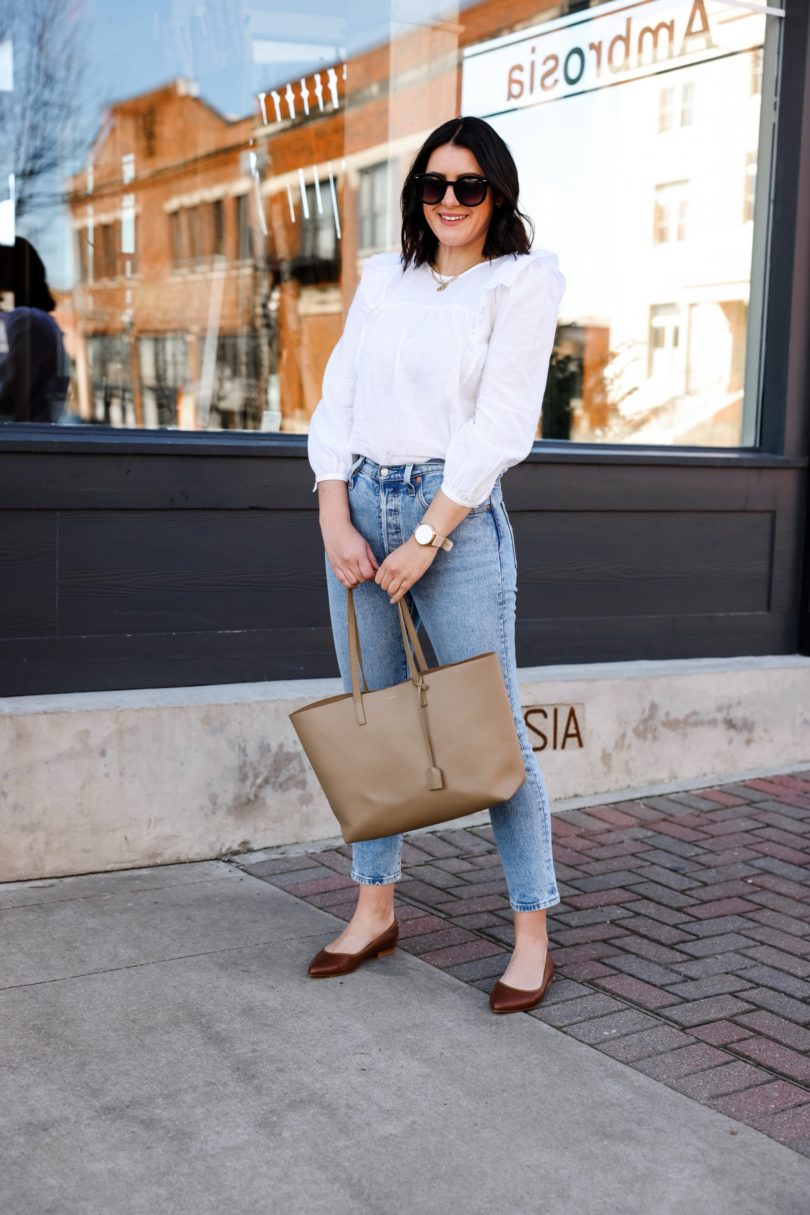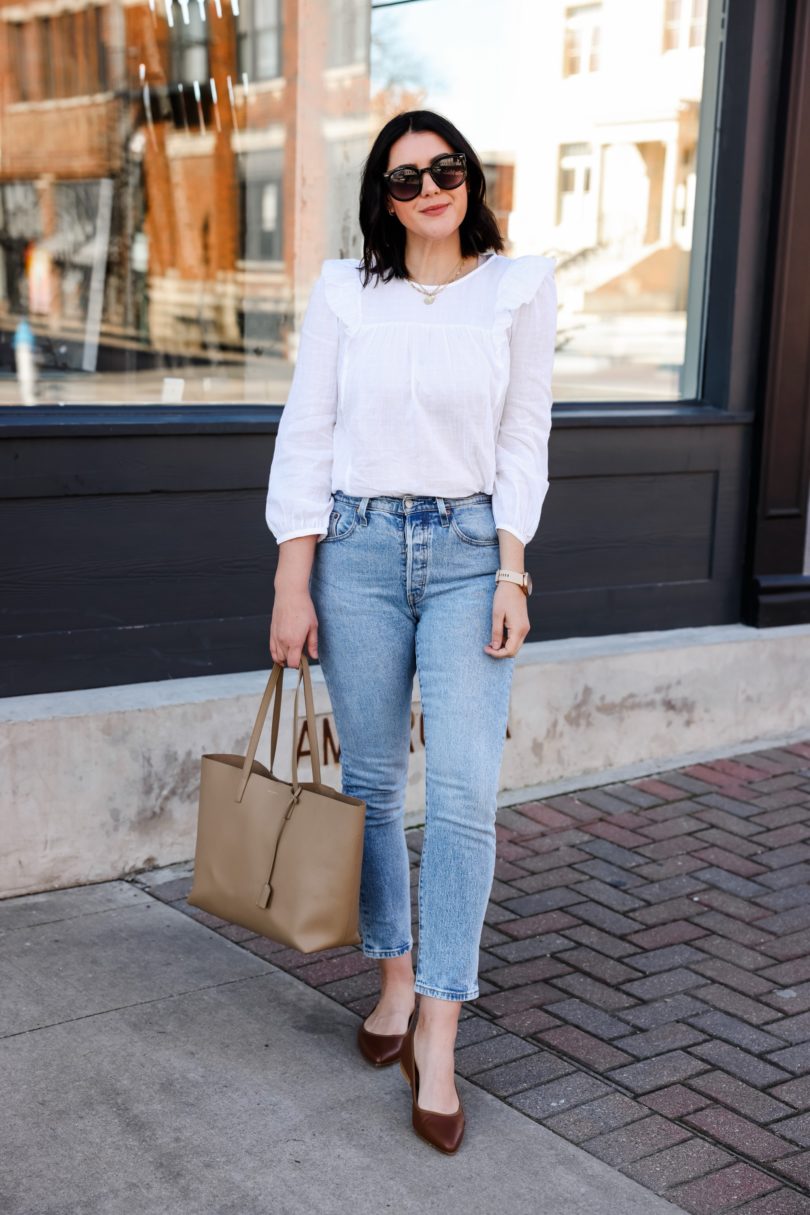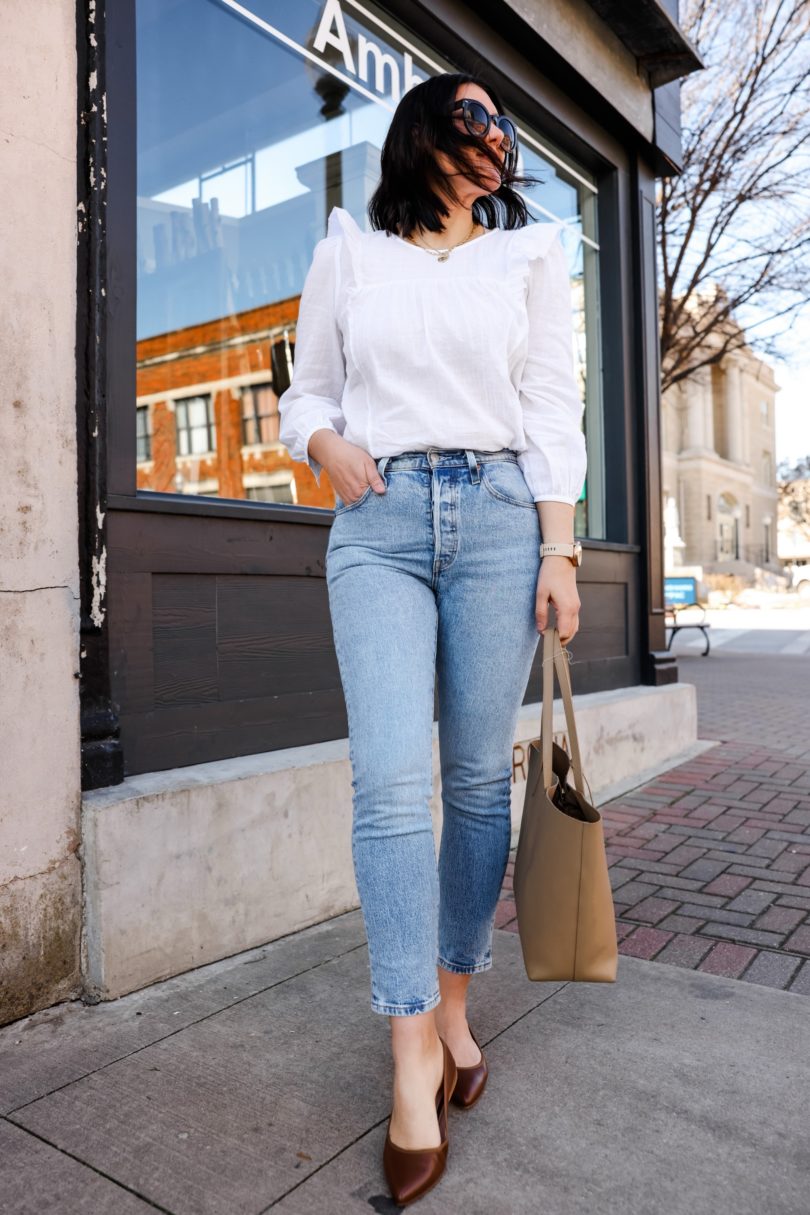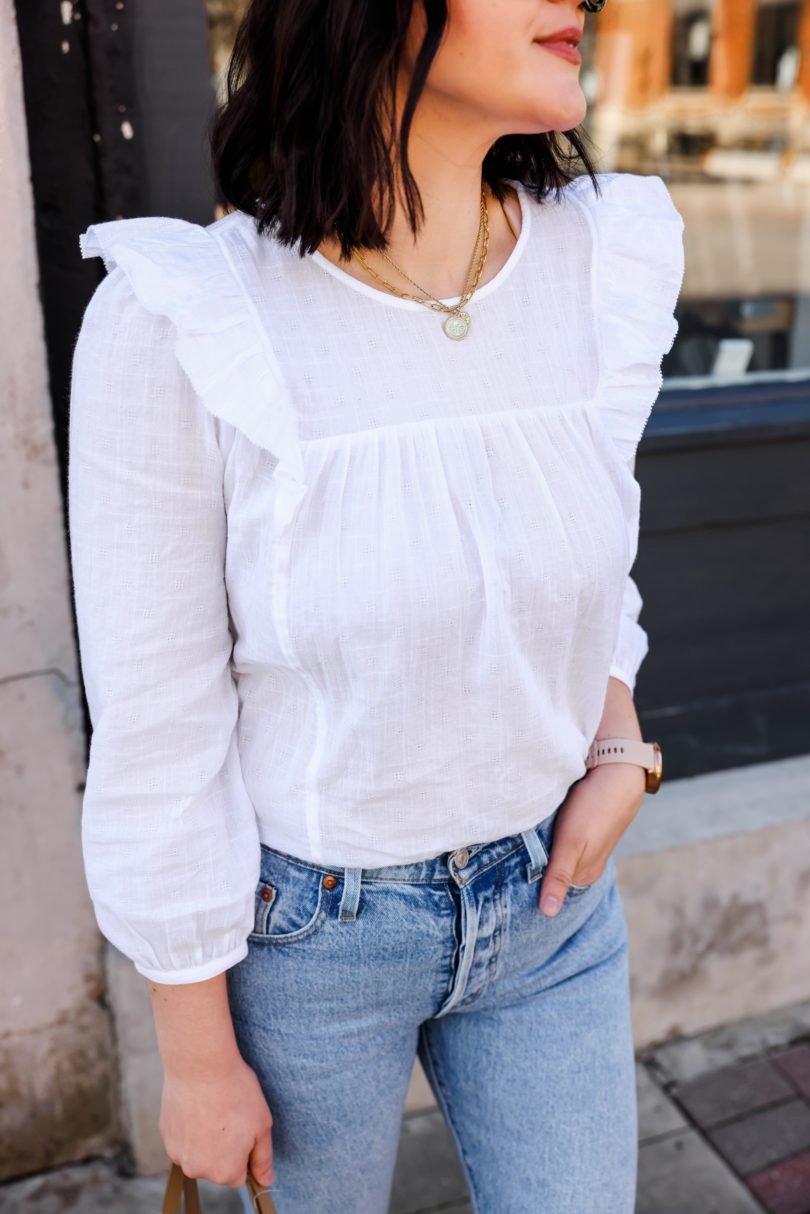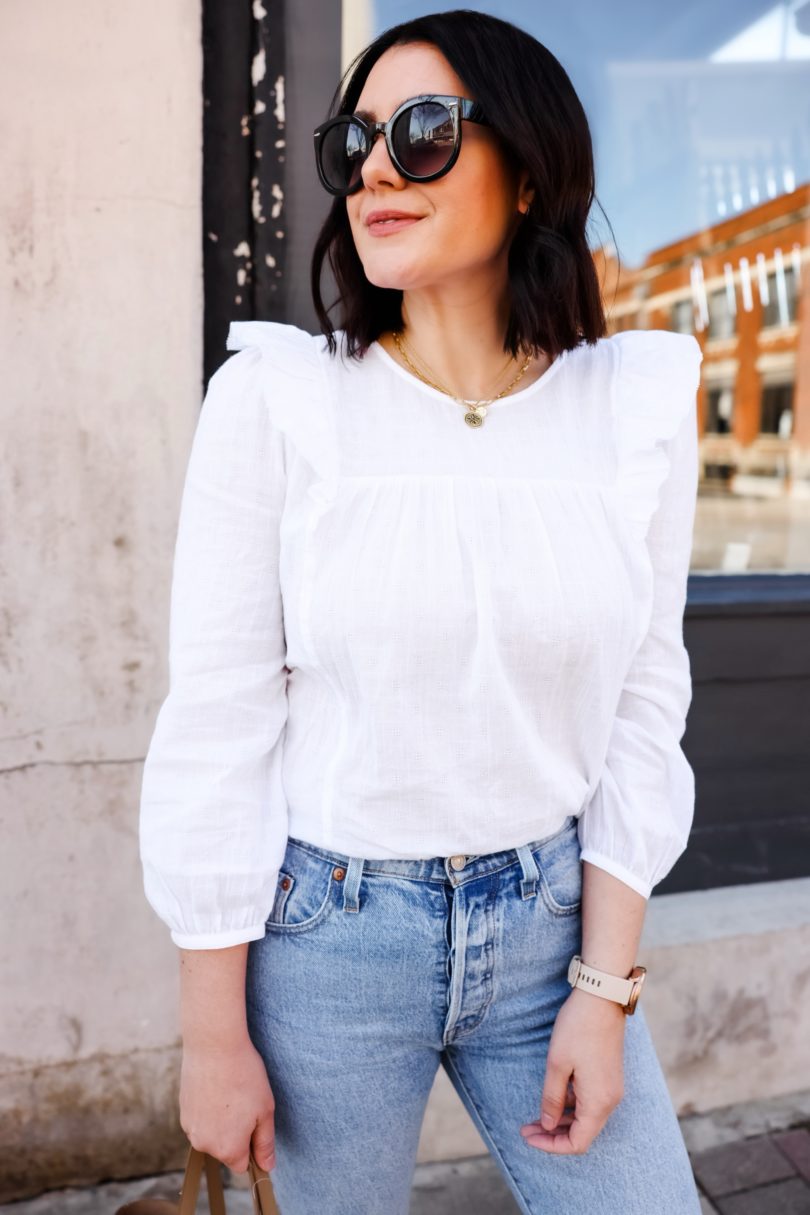 For a second I thought I was going to sTOP wearing puff sleeves this spring. I don't know what I was thinking, but I love puff sleeves, which is a good thing because they're EVERYWHERE. Good luck finding a ruffle-free or puffy TOP this spring. Luckily I love both and this TOP has both. This nice little blouse is from Madewell and is a very light, almost muslin-like, slightly sheer fabric that is perfect for spring/Summer temperatures. Maybe a little cool for now, actually. I'm in the middle and it fits TTS.
Find it here.
PS You're up to 30% off this week using code HOWFUN!
Under $30 Option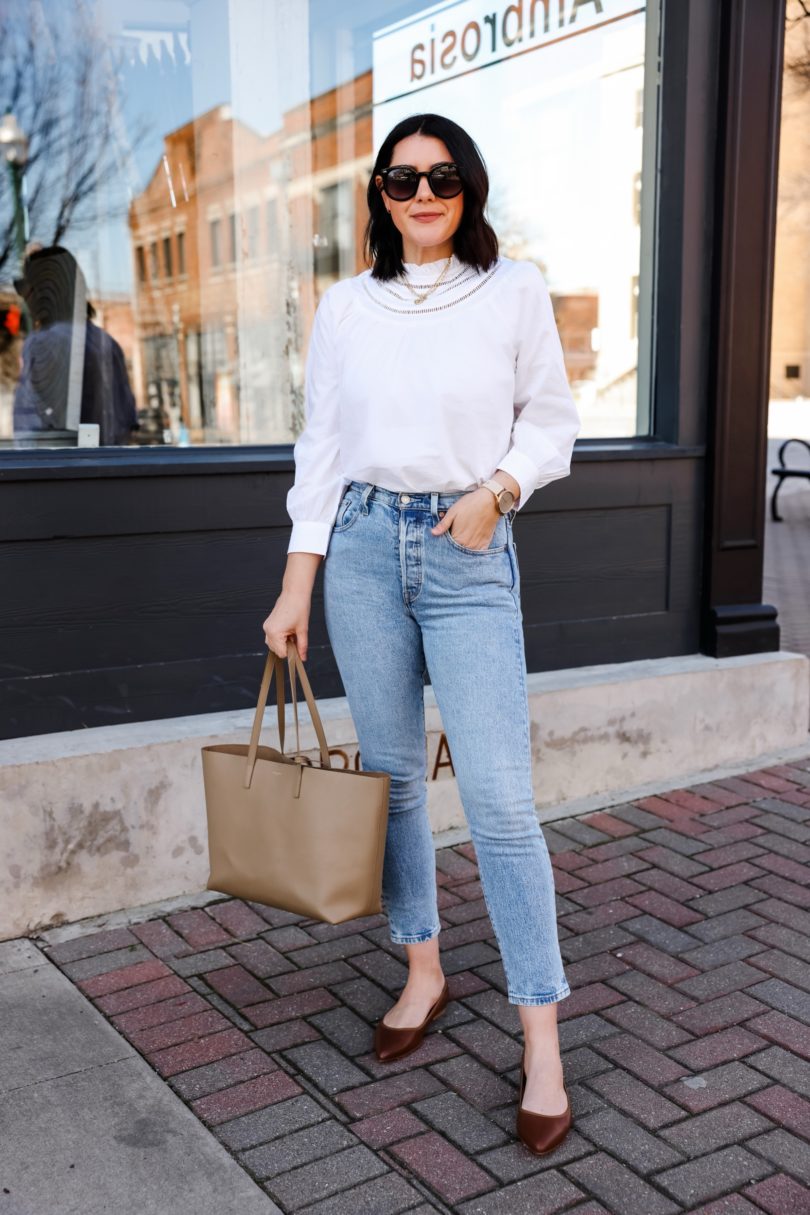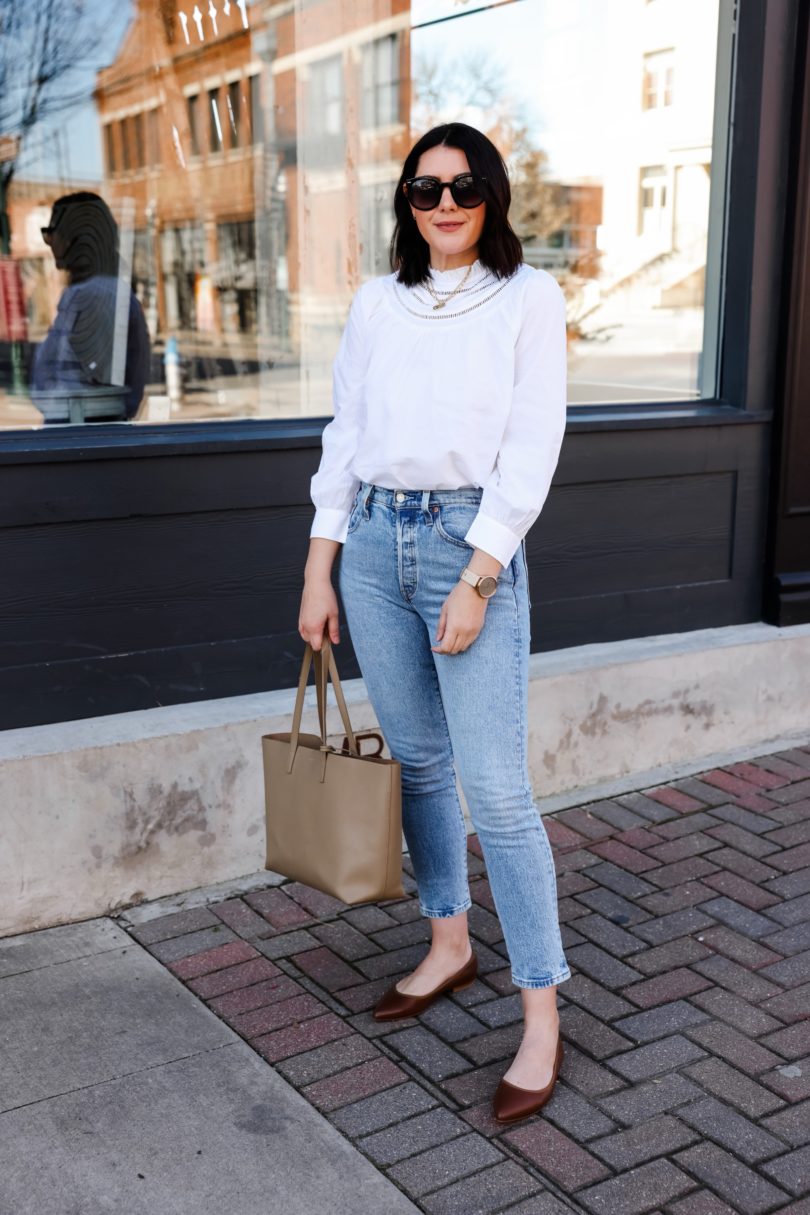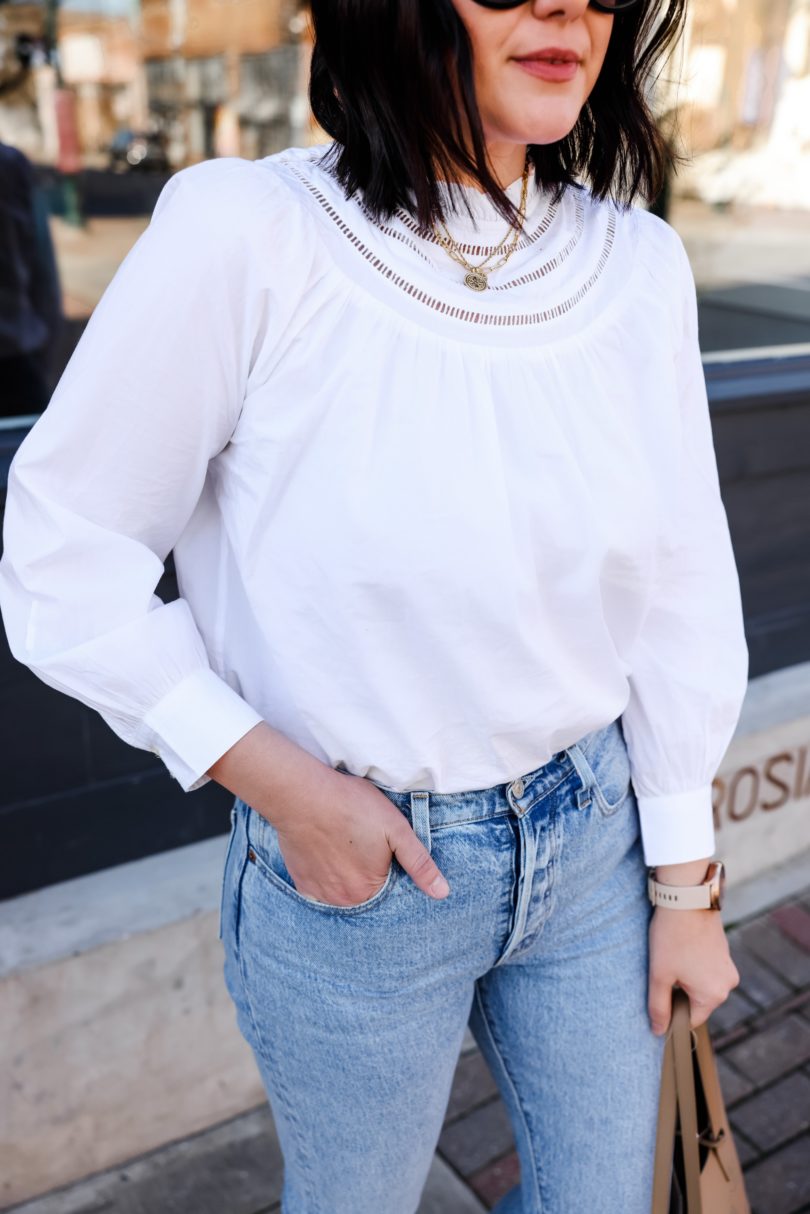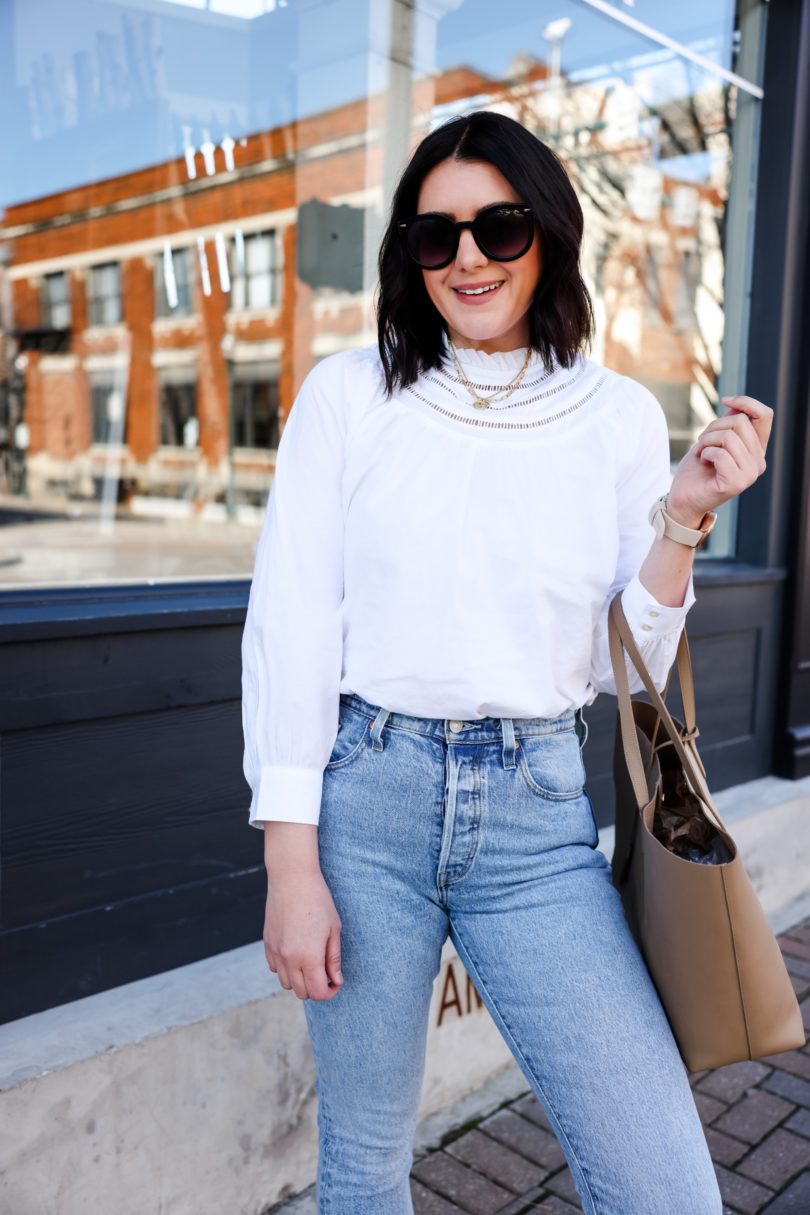 In the same vein, this poplin top has a high neckline, slightly puffed sleeves but unfortunately no frills. If a big ruffle goes too far for you, I get it. This option is perfect for you, since the ruffle only exists around the faux neckline. This top is a studious cotton, not see-through, and is actually 100% organic cotton, if you can believe it. Get it, Walmart. It definitely needs a good ironing, but once it's ironed, it's a beautiful fabric and blouse. You'd never guess it's under $30, it's very well made. I'm in the middle and I have to say it fits pretty generous. You could easily downsize one, especially if it's smaller at the top.
The good thing is that this is a classic and cute blouse to work in the spring, Summer and fall. And all for less than $30!
Find this top here.
So the question is THIS (upper Madewell) or THAT (upper Walmart)? Let me know below in the comments!