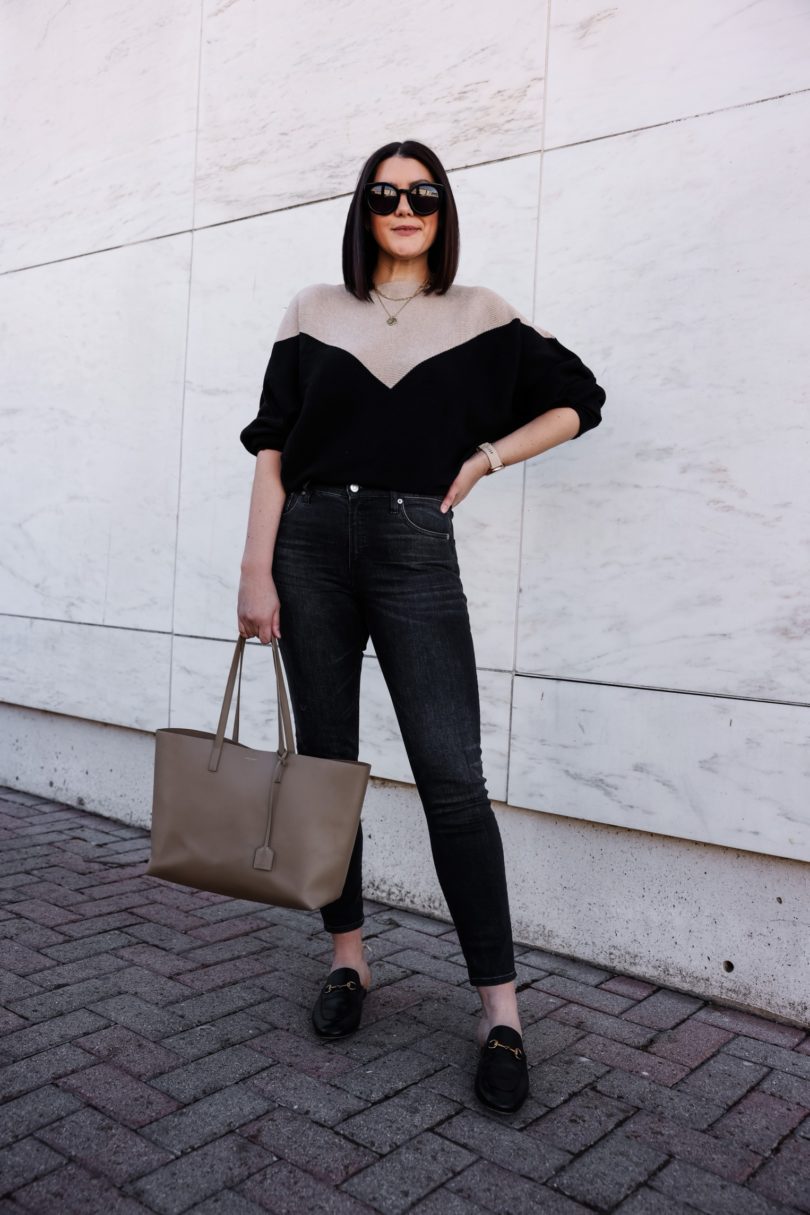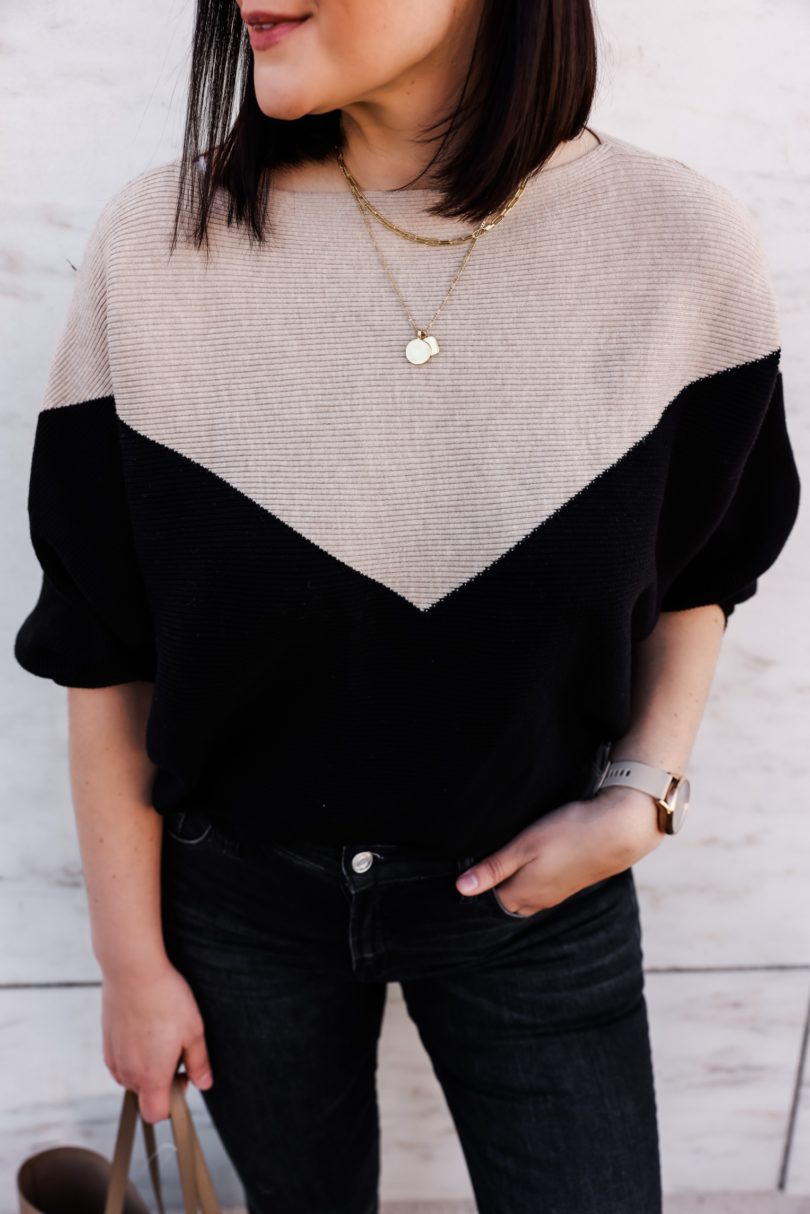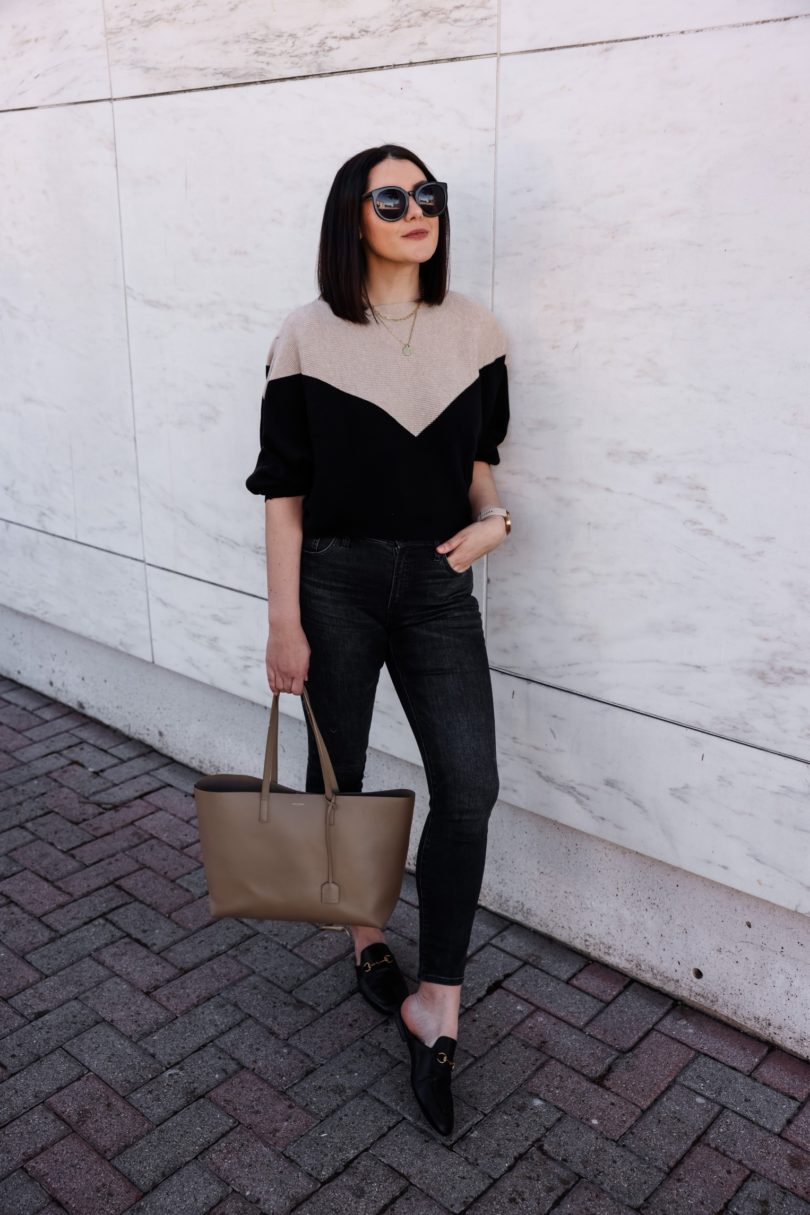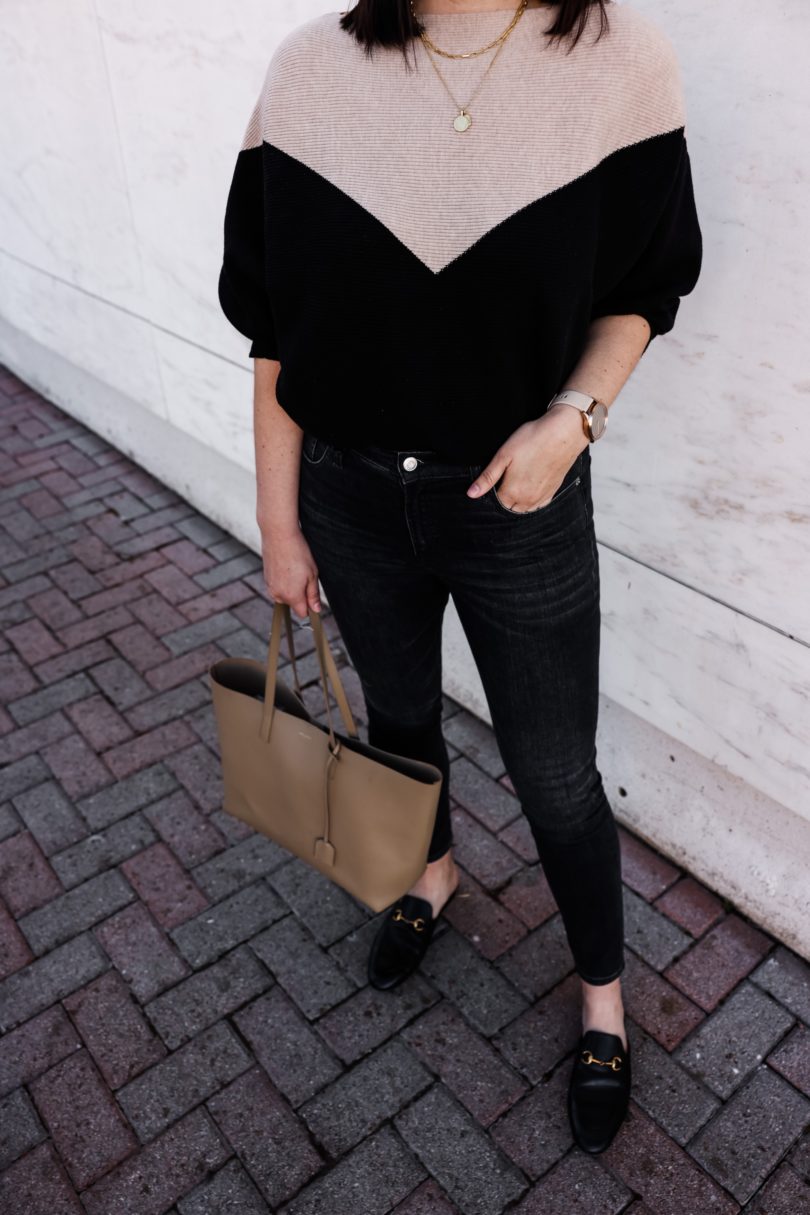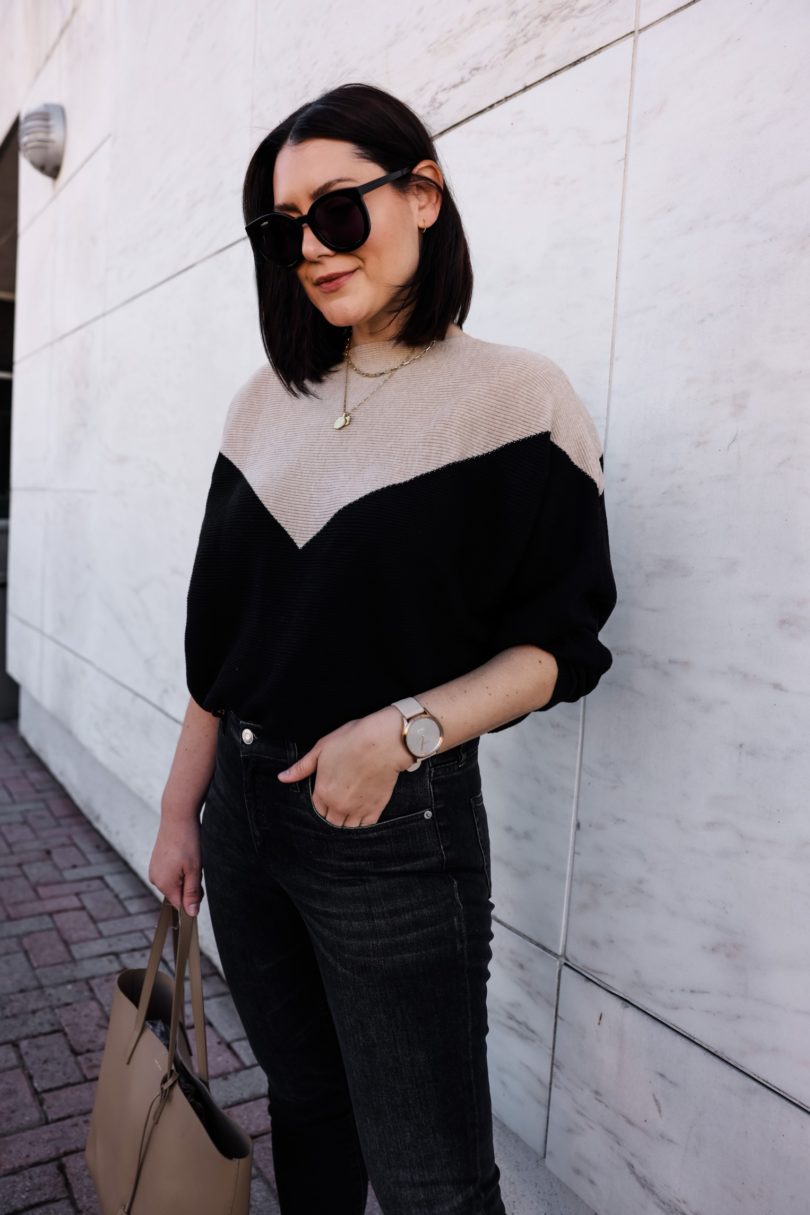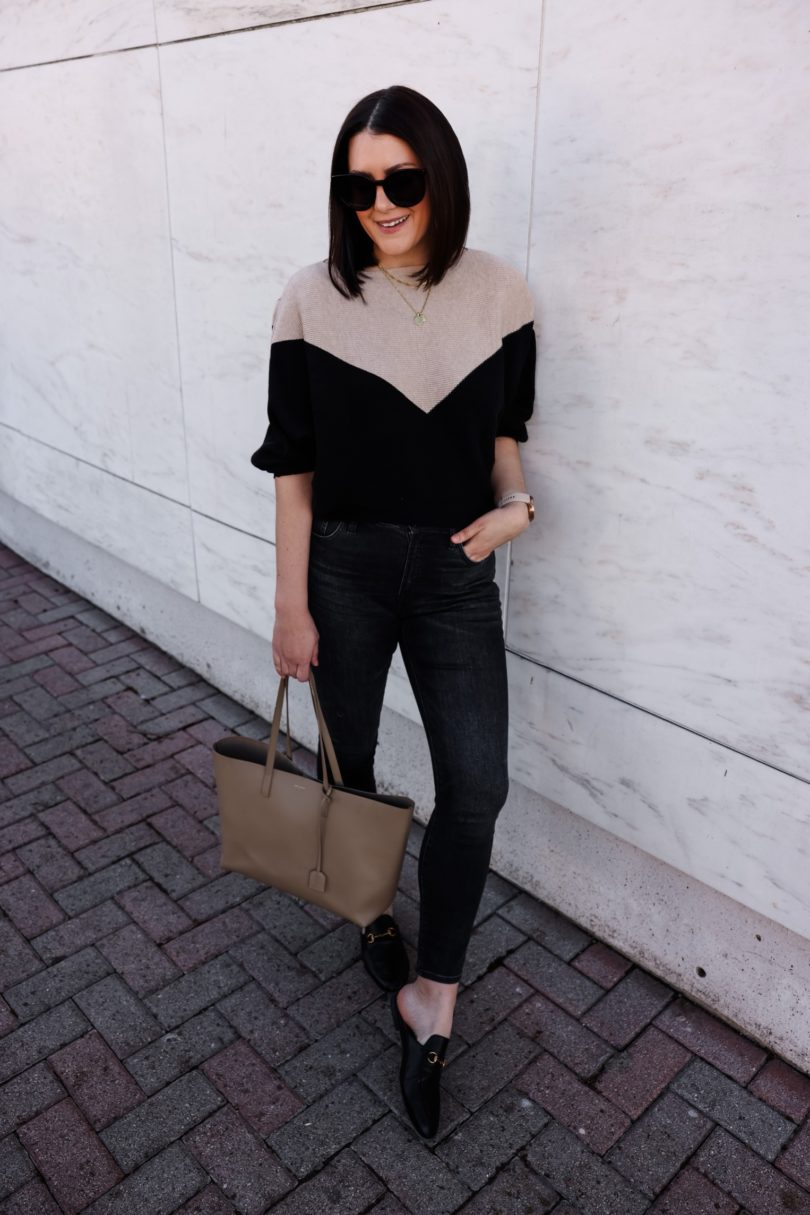 Yeah, she feels a little late to show off a sweater when everyone's showing off swimsuits online. (SWIMSUITS, everyone. I'm not ready for this, emotionally, physically or spiritually). We are in that in-between moment right now; some days are warm and sunny, others are still gray and cool. It's not spring, but it's not winter anymore. What should we call this time between spring and winter: 'sprinter'? 'twist'? Let those trunks ruminate in your brain and let me know if we're going to make any of them a thing. I'm a fan of 'sprinter', but I'll let you choose.
ANYWAY, I mean, let's be honest: WE. IS IT SO. ON. SWEATERS. However, I still use them because I have to. So at least I get to use one of my favorites, this Amazon Colorblock find. It's unbelievably soft and super cute, so it's not like a punishment or anything. (You can find it here). You know what I haven't finished? neutrals. Give me all the neutrals for spring, honestly. I don't know if I'll be going for the sparkly glitters this season, but we'll see. I tend to change my mind at the last minute, as we all know. I thought about lightening this outfit with White Jeans, but honestly, I love Black Jeans these days. Why change something good if it's working? These are a pair from J.Crew that I loved. You can find them here!
So let's shelve this latest spring-to-winter sweater outfit today, and I promise to bring spring shades and styles next week if you promise to come back next week. Deal? Deal.
One thing I like to do with my sweaters as I transition into a new season is to give them a new look by rolling up the sleeves and tucking the sweater all the way. This almost looks like a Short-sleeved cropped sweater, rather than a long one. sleeve tunic as sweater is. Just one sleight of hand and it looks like a new sweater. My only advice to you? Roll up the sleeves, then fold them in at the elbow so the sleeve stays up.
You can find my sweater here!